Regular price
Sale price
$9.00
Unit price
per
Sale
Sold out
Raw Unfiltered Clover Honey Bear
Many people say this is THE BEST Clover Honey they have ever had. We agree! These squeezable containers are not only convenient, they have the nostalgic feel and look of the classic honey bear we all loved as children.

Collected from unique wild clover flowers with a light nectar perfect in sweetness with delicate hints of vanilla and sunshine. This honey will pair perfectly with your coffee, tea's, hot cereal, homemade sodas, glazes and baked goods. No funny aftertaste with this honey!
About This Honey
Raw and Unfiltered means it still contains the natural traces of pollens, propolis, minerals, enzymes and tiny bits of Beeswax cappings. It is honey just the way the bees make it with all the flavor and benefits.

12oz squeezable food grade plastic bear

Also available in our cute mini 2oz honey bears, great for kids, office, party, gifts and cash-wrap.
Share
View full details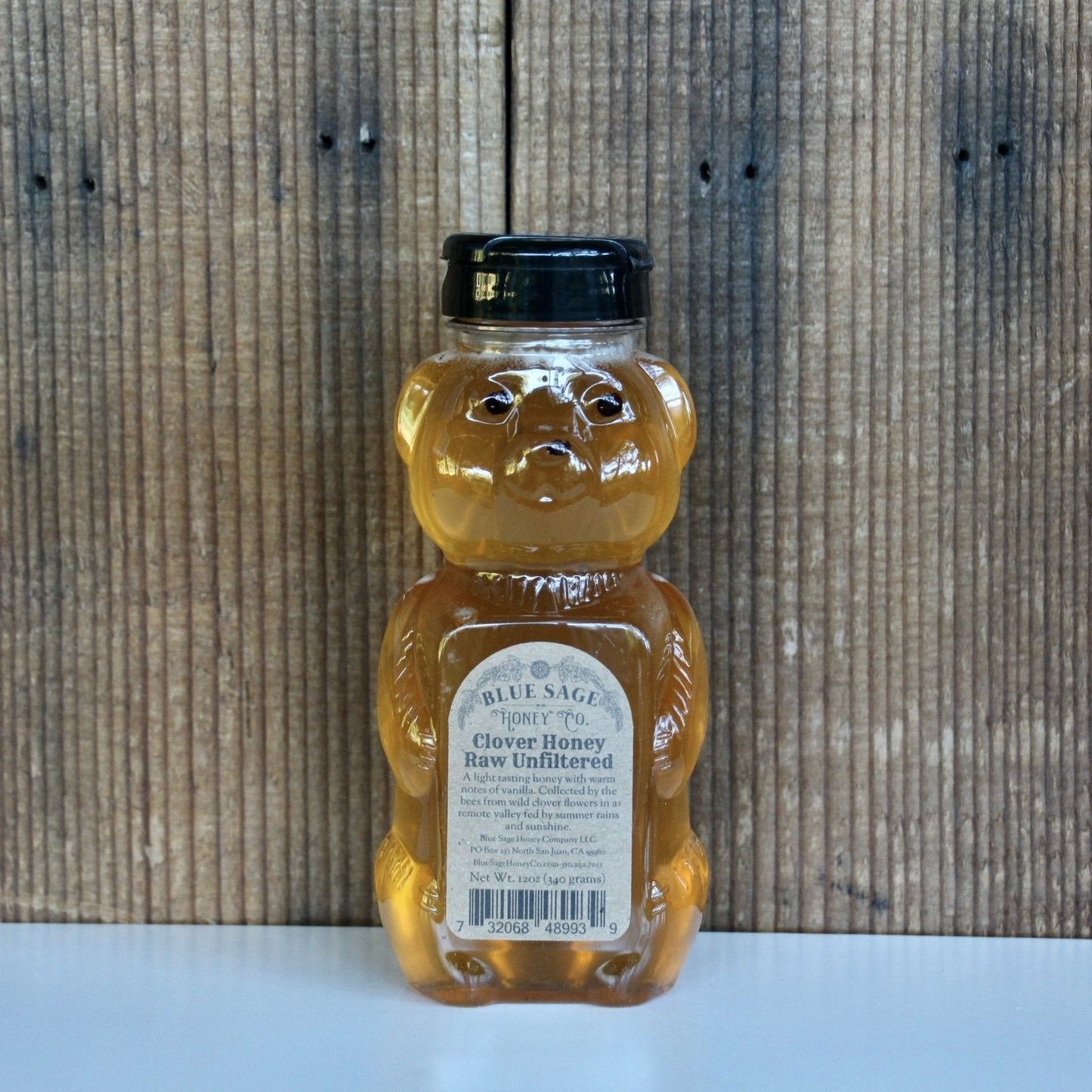 Savory

Our Smoked Hot Pepper, Ginger, Turmeric Ginger & Cinnamon Infused Honeys are delicious in savory dishes. Perfect for rubs, grilling, vegetable marinades, sauces, dressings & dips (guacamole or sour cream dips!). Also in mixed drinks as a syrup, lemon aid, hot chocolat, meads and sodas.

More than Food

Raw Unfiltered Honey has been used for centuries as medicine. It's is full of antioxidants, vitamins & minerals. It has natural pre-biotics which help with digestion. Raw Honey is naturally antibacterial and antimicrobial which promotes health when taken internally as well as used externally on wounds or skin irritations.

Benefits of Infused Honey

We infuse our honeys with Organic Herbs & Spices in a slow low infusion process. We keep the honey raw while imbuing the flavors, aromas & beneficial properties of the herbs & spices into the honey. Calm with Lavender, be uplifted by Cardamom & improve digestion while reducing inflammation with Turmeric Ginger.
FREE SHIPPING ON ORDERS OVER $100
Get Free Standard Shipping on any USA Orders over $100
Eco-Friendly

We are committed to reducing waste by sourcing biodegradable & recyclable packaging for all of our products.

Organic

We use only organic, sustainably harvested & wildcrafted herbs & spices everywhere possible throughout our products!

Our Promise

We offer real goods made by real hands because we care about you, you'r quality of life & the earth.