Regular price
Sale price
$110.00
Unit price
per
Sale
Sold out
This is the best buy for you honey lovers! Make it last longer with this 1 gallon (12 pound) bucket of raw, unfiltered clover honey. This raw honey has not been processed, and retains all of its natural antioxidants, vitamins, minerals, and enzymes. If you like to make jun, mead, smoothies, you're a baker or you have a large family, this is going to be the best way to keep your family enjoying quality real honey for a really good price.
Options
Virgin Clover
This is the same as our Virgin Clover Honey but BULK. Our raw unfiltered clover honey is collected from wild clover flowers in a remote region. Because of the particular type of clover flower the Honey Bees collect this nectar from and because we never heat this honey above 95 degrees, the texture of this honey is smooth crystallization, like butter. (This is the same way we treat our infused honeys if you have enjoyed those before. If you haven't tried them, we highly recommend you do!).

Highlights:
Never Heated Above 95 Degrees
Never filtered (some particulates may be present in this honey from the extraction process)
Smooth, spreadable, buttery consistency
Liquified Raw Clover
This is the same raw unfiltered clover honey we use for our amazing infusions and that we bottle as Virgin Clover. If you wish to have it liquified we heat it to 110 degrees, which, makes it pourable but keeps it technically raw. This is packed in the bucket while it is virgin clover which means it is completely unfiltered just like the Virgin Clover. There could be particulates in this honey from the extraction process.
Highlights:
Pourable, liquid Honey
Raw Unfiltered Clover Honey
Never filtered (some particulates may be present in this honey from the extraction process)
Share
View full details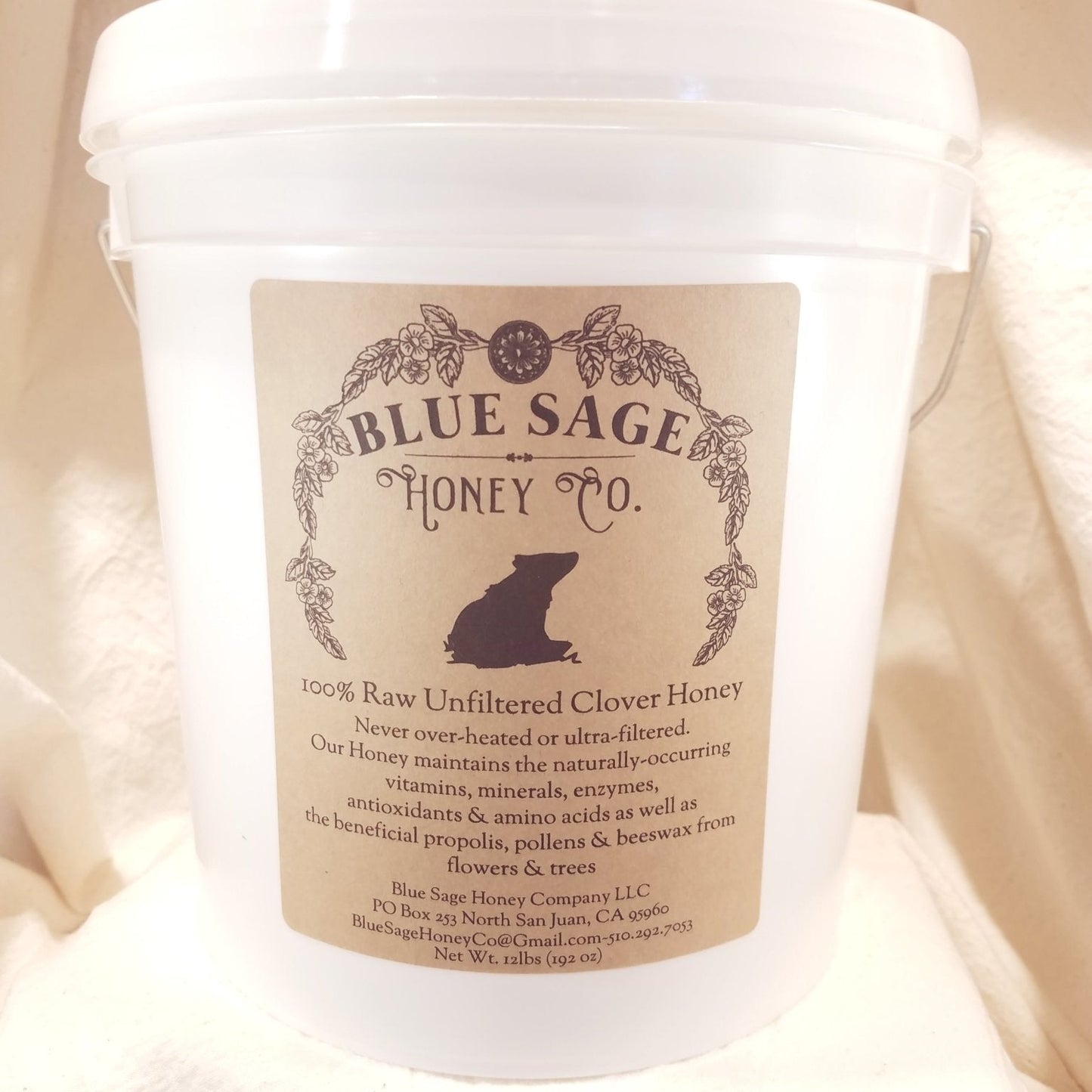 Savory

Our Smoked Hot Pepper, Ginger, Turmeric Ginger & Cinnamon Infused Honeys are delicious in savory dishes. Perfect for rubs, grilling, vegetable marinades, sauces, dressings & dips (guacamole or sour cream dips!). Also in mixed drinks as a syrup, lemon aid, hot chocolat, meads and sodas.

More than Food

Raw Unfiltered Honey has been used for centuries as medicine. It's is full of antioxidants, vitamins & minerals. It has natural pre-biotics which help with digestion. Raw Honey is naturally antibacterial and antimicrobial which promotes health when taken internally as well as used externally on wounds or skin irritations.

Benefits of Infused Honey

We infuse our honeys with Organic Herbs & Spices in a slow low infusion process. We keep the honey raw while imbuing the flavors, aromas & beneficial properties of the herbs & spices into the honey. Calm with Lavender, be uplifted by Cardamom & improve digestion while reducing inflammation with Turmeric Ginger.
FREE SHIPPING ON ORDERS OVER $100
Get Free Standard Shipping on any USA Orders over $100
Eco-Friendly

We are committed to reducing waste by sourcing biodegradable & recyclable packaging for all of our products.

Organic

We use only organic, sustainably harvested & wildcrafted herbs & spices everywhere possible throughout our products!

Our Promise

We offer real goods made by real hands because we care about you, you'r quality of life & the earth.