Regular price
Sale price
$34.00
Unit price
per
Sale
Sold out
A Special Gift for Everyone
This is one of our most popular gift baskets.
Complete with three delicious infusions including one 5.5oz Jar of Naturally Infused Raw Honey and two 1.75oz jars of our Naturally Infused Raw Honey.
Choose a custom selection in sizes between our
Cardamom 
Infused Raw Honey
Chai Spice 
Infused Raw Honey
Lavender Infused Raw Honey
With this basket you get a selection of Infusions to enjoy in eco-friendly beautiful packaging hand assembled by us.
All packaging is 100% compostable and recyclable!
Nestled in a turquoise pulp berry basket with light wood excelsior and wrapped in a paper raffia ribbon.
Ingredients:
Lavender: Raw Unfiltered Clover Honey, Organic Lavender Flowers
Cardamom: Raw Unfiltered Clover Honey, Organic Cardamom
Chai Spice: Raw Unfiltered Clover Honey, Organic Cinnamon, Organic Ginger, Organic Cardamom, Organic Allspice, Organic Fennel, Organic Cumin, Organic Nutmeg, Organic Black Pepper, Organic Cloves.
Share
View full details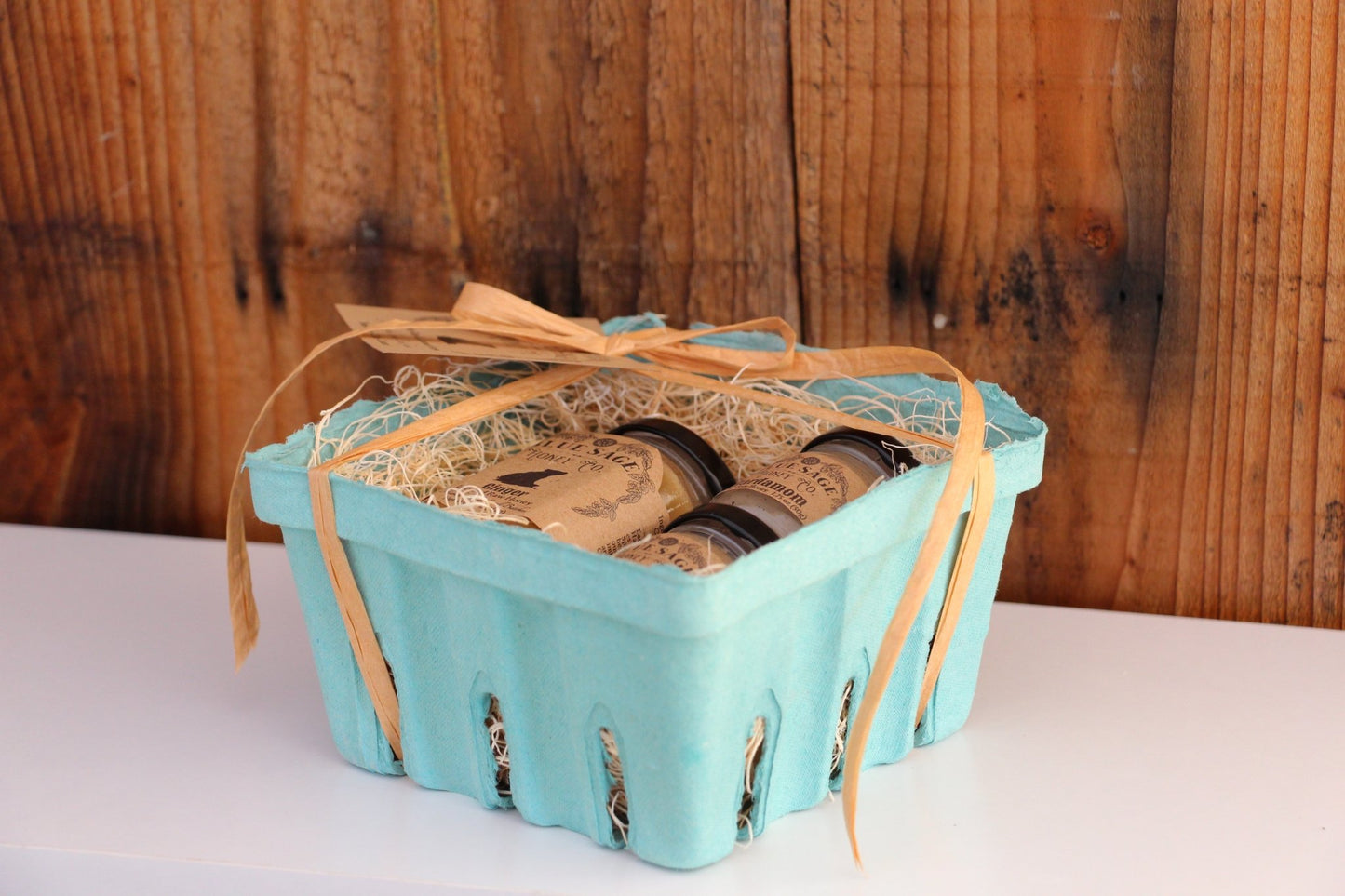 Savory

Our Smoked Hot Pepper, Ginger, Turmeric Ginger & Cinnamon Infused Honeys are delicious in savory dishes. Perfect for rubs, grilling, vegetable marinades, sauces, dressings & dips (guacamole or sour cream dips!). Also in mixed drinks as a syrup, lemon aid, hot chocolat, meads and sodas.

More than Food

Raw Unfiltered Honey has been used for centuries as medicine. It's is full of antioxidants, vitamins & minerals. It has natural pre-biotics which help with digestion. Raw Honey is naturally antibacterial and antimicrobial which promotes health when taken internally as well as used externally on wounds or skin irritations.

Benefits of Infused Honey

We infuse our honeys with Organic Herbs & Spices in a slow low infusion process. We keep the honey raw while imbuing the flavors, aromas & beneficial properties of the herbs & spices into the honey. Calm with Lavender, be uplifted by Cardamom & improve digestion while reducing inflammation with Turmeric Ginger.
FREE SHIPPING ON ORDERS OVER $100
Get Free Standard Shipping on any USA Orders over $100
Eco-Friendly

We are committed to reducing waste by sourcing biodegradable & recyclable packaging for all of our products.

Organic

We use only organic, sustainably harvested & wildcrafted herbs & spices everywhere possible throughout our products!

Our Promise

We offer real goods made by real hands because we care about you, you'r quality of life & the earth.